Art + Shenanigans with Petra
Oct 29, 2021 1:11 am
Hi there,
I hope you are well this week. I am working on a few commissions In the meantime, I decided to start setting up at festivals and events that cater to artists and curating all of my displays right now while mapping out the inventory I will need on hand for it all - this will definitely keep me busy as those tend to die down over the colder season.
Also - the winner of the Wood-Burning Kit has not stepped forward to claim it - so I will do another drawing tomorrow (Friday, October 29th) and select a new winner!
Commissions and custom orders for the holidays have to be in by November 39th so that I have time to create them for you and ship them!
I wanted to share with you a few other things I am doing and the first one is that the 🗒️ Pyrography Subscription Box is coming!
It's finally time to share some details with you about the Pyrography Subscription Box!
There goes a lot into this from planning, recording, editing, and putting it all together!
With that said, I do have 2022 already planned out for projects – what theme will be for what month which helps a lot.
I won't reveal these as some of this is tends to be subject to change – like when I go to the craft store and find just the right projects that shift everything a little bit.
In the very first box, we'll create a Welcome Sign, Bookmarks, Coasters, and a Cutting Board!...
And then the second thing I decided to do is offer this:
🗒️ Monthly Handmade Mystery Subscription Box - Seasonal Holiday Themes - Gift subscription, Monthly Surprise Box by PetraMonaco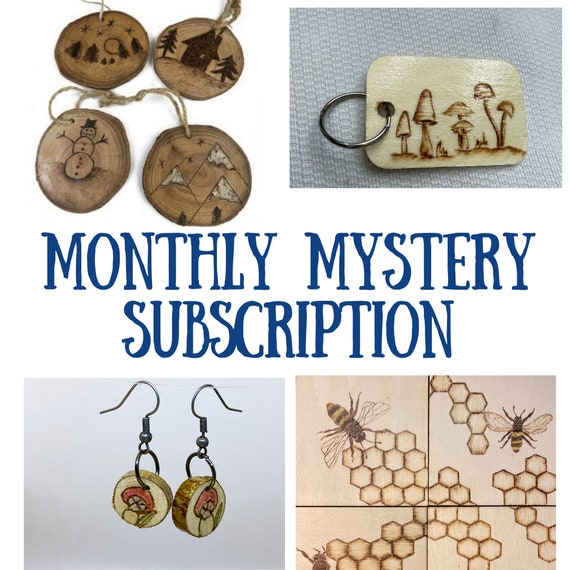 Subscribe to receive a new wood-burned handmade surprise delivered every month!
Most months it will be seasonal or holiday-themed.
Choose the length of subscription that is right for you.
What better way to add to your own personal collection to keep for yourself or have handmade gifts to give?
Handmade Surprises you can expect: Coasters Magnets Earrings Necklaces PinsKeychainsBookmarksSmall BoxesOrnamentsTell me your favorite things - maybe it will be a theme for one of the mystery boxes....
Cheers,
Petra Monaco