Esta semana en Startups: Bitso y Albo
Dec 14, 2020 6:31 pm
I N V E R S I O N E S
Series B - Bitso - $62M
CDMX, México
Inversionistas: Kaszek Ventures, QED Investors Coinbase Ventures, Kaszek Ventures, Pantera Capital, QED Investors
Series B - Albo - $45M
CDMX, México
Inversionistas: Flourish Ventures, Greyhound Capital, Mountain Nazca, Valar Ventures
Series B - Intelipost - $32M
São Paulo - Brasil
Inversionistas: Riverwood Capital
Venture Round - VLI - $234M
Belo Horizonte, Brasil
Inversionistas: The Brazilian Development Bank
Seed Round - Come Bien - $1.2M
CDMX, México
Inversionistas: GAM-SWT 500 Startups
Seed Round - Conta Simples - $2.5M
São Paulo - Brasil
Inversionistas: Quartz, A.B.Seed Ventures, BIG BETS, DOMO Invest, FJ Labs, TwentyTwo VC
Pre Seed Round - Doctu $100K
Monterrey, México
Inversionistas:
Seed Round - Ressolve - $200K
Medellín, Colombia
Inversionistas: Antler
N O T I C I A S


---
Si aún usas newsfeeds puedes seguir las noticias de tech via

Facebook

o

Twitter
---
E M P L E O S _ D E S T A C A D O S
Collective Academy. Product Manager
Remote
Bitso. Product Manager Rails
Remote
Bitso. Lead UI Designer
Remote
Oyster. Visual Designer
Ciudad de México
Netflix. Creative Producer, LATAM
Ciudad de México
Konfio. Growth Specialist
Ciudad de México
Cabify. Driver Growth Analyst
Santiago de Chile
Collective Academy. Financial Analyst
Ciudad de México/Monterrey (Remote)
Letsmake Innovation Happen. Dirección de Marketing Digital
Ciudad de México
Bitso. VP of Marketing
Remote
Kavak. Strategy Manager
Ciudad de México
Viatu. Operations Associate
Monterrey, NL
Rappi. E-Commerce Operations Manager
Buenos Aires, Argentina
Bitso. Customer Support Agent
Remote
Runa. Account Executive
Ciudad de México
Vitau. Senior Sales Executive
Monterrey (Remote)
Kavak. Regional Head of Sales
Ciudad de México
Facebook. Localization Editor, Brazilian Portuguese
São Paulo, Brazil
Hubspot. Customer Onboarding Specialist with Spanish, English, and Portuguese
Bogotá, Colombia
C Y B E R P U N K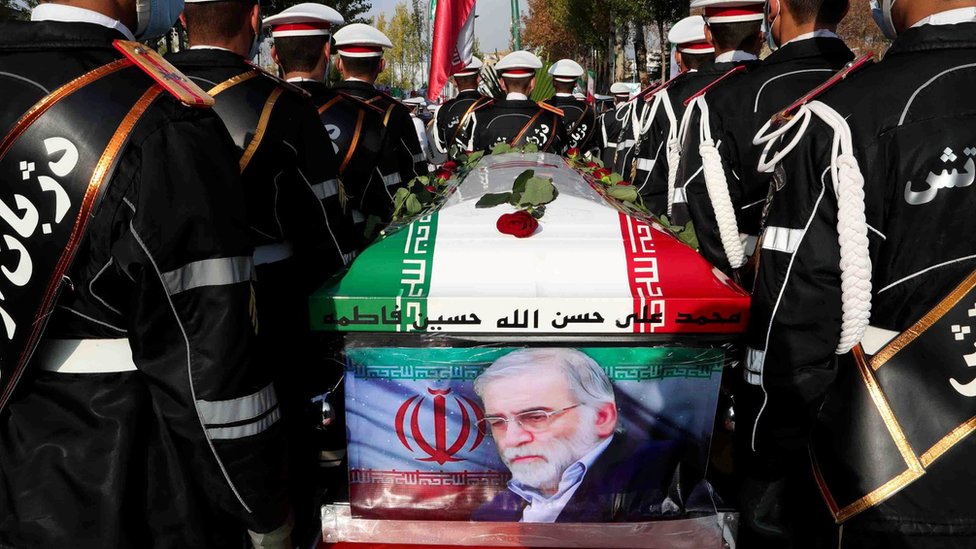 Esta noticia tiene más de una semana, pero entre más detalles se develan, mas interesante me resulta.
Mohsen Fakhrizadeh, el principal científico nuclear de Irán, fue asesinado el 27 de noviembre por una "ametralladora inteligente controlada por satélite" que usaba I.A. (según Ali Fadavi, el comandante de los Guardias Revolucionarios de Irán).
El científico fue presuntamente asesinado por un arma montada en una camioneta, que disparó a Fakhrizadeh dentro de un vehículo a distancia - pero salvó a su esposa sentada a su lado.
"El arma se centró sólo en el rostro del mártir Fakhrizadeh de manera que su esposa, a pesar de estar a sólo 25 cm. de distancia, no fue herida", — General Ali Fadavi,
—
Moon Mark, una empresa de contenido multimedia y educativo, está organizando la carrera junto con Intuitive Machines, una empresa aeroespacial con sede en Houston. Uno de los cohetes de SpaceX Falcon 9 les ayudará a llegar allí en octubre de 2021.
—